Programme | First window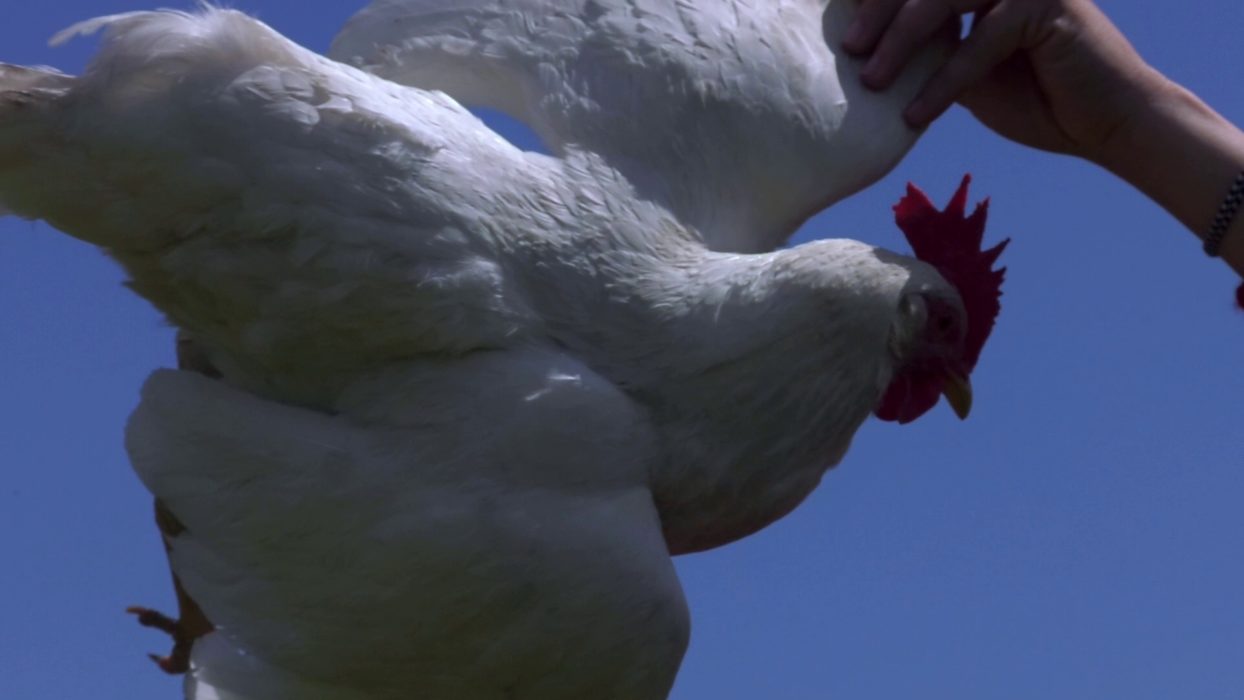 This selection is dedicated to documentary debuts from young creators enrolled film studies or creating outside of any specific training environment. Showcasing a selection of first films, this section is also dedicated to putting the spotlight on emerging practices. 

The films are shown in theatres over the course of the festival, they are also available online on a dedicated section of the Mediapart website, where visitors can vote for their favourite film.
---
Capsules / Portrait #3 by Jules Bourbon 
2022 | France | 3′
I'm trying to film everyday life and its repetition, its accumulation. So that these videos become a viewpoint for our perception of reality – violent, touching, dirty and magnificent.
---
Chère Poule by Janis Reyes
2022 | France | 12′
A woman dressed in red is scared of death. She ventures onto this dreaded path, as the story of a childhood pet chicken-turned-hen slips into her quest.
---
Heart Defense by Baptiste Perusat
2022 | France | 27′
Through six characters, the discovery of different geographical and social areas and the dark and little-known underground labyrinth of Europe's largest business district, La Défense.
---
What Do I Look Like by Adèle Shaykhulova
2022 | France | 27′
Twenty-three-year-old Muhammad is stuck in Paris. While awaiting his drawn-out trial, he tries to find his place in this foreign city.
---
Quitter Chouchou by Lucie Demange
2023 | France | 28′
Holidays spent at my mother's. The atmosphere is tense: not only does she find it hard to accept that I'm not the girly daughter she dreamt of having, but she is also in the middle of divorcing my stepfather. The stay promises to be eventful.
---
Memories of Stone Faces by Andrea Brocoli
2022 | Switzerland | 9′
A poetic reflection on the exploitation of the water and hardrock mines in the Swiss Alps. Contemporary images and archives, documentary and fictional material immerge us in the geological and human memories that haunt the current extractive environments.
---
Monstruo by Marcello Balzaretti
2022 | Switzerland | 21′
Amidst the chaotic celebration of a sports victory, a film student comes face to face with a traumatic memory. He is consumed by the desire to confront the man who inflicted it on him and uses cinema as a means of dealing with past trauma.
---
Nobody Is Coming by Georgia Panagou 
2022 | France | 6′
From the observation point of a commercial centre in the heart of Paris; silhouettes are looking at the sky waiting for something to happen. At the same time, on the borders of Europe, others are preparing their shopping lists.
---
Pruebas by Ardélia Istarú 
2022 | Belgium – France – Costa Rica | 28′ 
In 1982 when she arrived in Paris, my Costa Rican mother sent a series of letters to her parents. Forty years later, I revisit these letters to have a better understanding of my history.
---
Rai Rayi by Walid Cheikh
2022 | Algeria – France | 26′
Friendship, creativity, authenticity and freedom of thought and expression: how these values can serve as sources of inspiration and strength in our lives.
---
Romy by Mahaut Guillon 
2022 | France | 14′
Romy wants to become an actress and has always put on a performance. In 2022, she was 13 years old. Like all teenagers, she shows herself off on social networks and roots herself in a premature relationship to femininity.
---
This Is The Art I Want To Do by Alice Lagarde
2023 | France | 5′
One day, together with my friends, we installed a swing under a wind turbine, in a field of green peas.
---
Whatremains, Genesis by Lou Fauroux
2023 | France | 18′
Early 2048, Google, which now owns the bulk of the planet, finds a remedy for death in the form of a digital immortality application. Reserved for a rich and powerful male elite, the programme's source code is stolen by a group of hackers who make it available to everyone.