Programme | The world, differently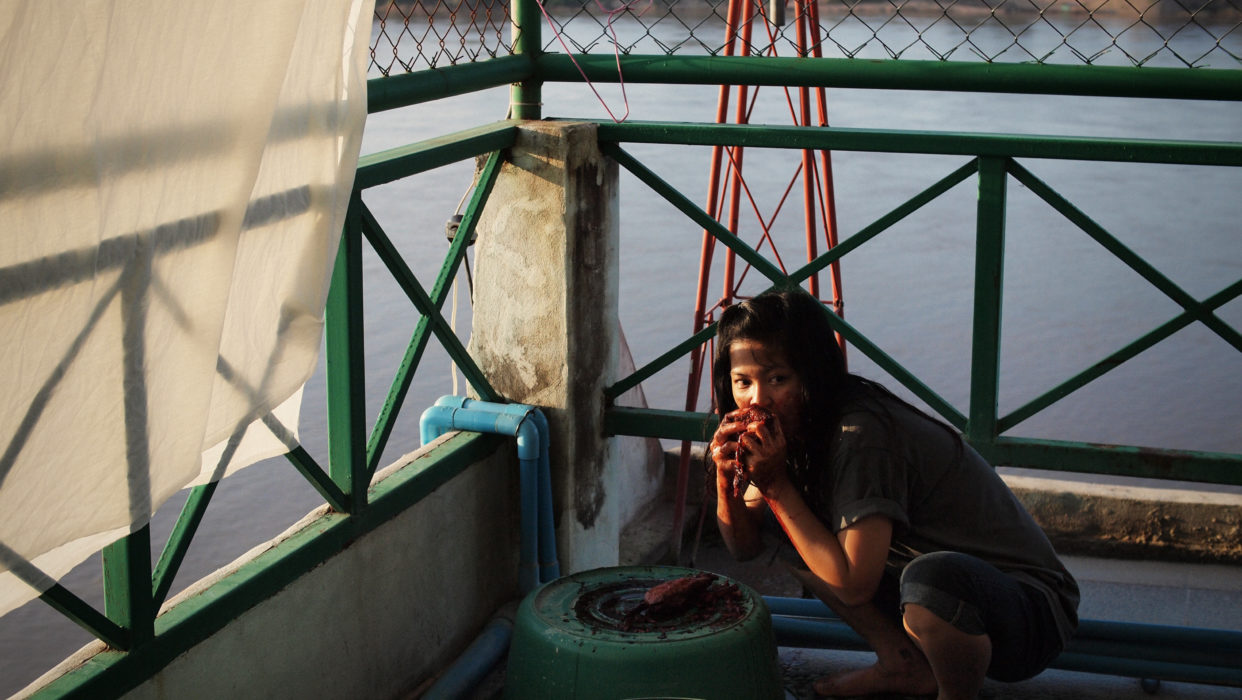 The story told by these films is not that of another world to be attained, but of our own world, differently, in a splendid gesture that desecrates the dominant systems. Amit Dutta, Antoine d'Agata, Sharon Lockhart, Apichatpong Weerasethakul, Pierre Creton, Ben Russell & Ben Rivers, Luis López Carrasco and Fern Silva all chart a global cinematic movement of affirmed otherness. This group complements the retrospectives of Franssou Prenant, Olivier Zabat and Jean-Pierre Gorin.
---
La Cabane de Dieu by Pierre Creton
2020 | France | 16′
From his father, Pierre inherited a wood that he looks after and, in the middle of the wood, a cabin, his father's old hunting lodge where Pierre now enjoys spending time alone with his dog… Like the house in Vattetot, the wood cabin is a film studio. And a haunted house.
(Cyril Neyrat)
Le Horla by Pierre Creton
2022 | France | 35′
In the Paris metro, a man is wearing a black mask. The man returns home and the sounds of social anger follows him inside, but nothing seems to matter apart from his commerce with the double that he finds within the white walls.
(Cyril Neyrat)
House of Love by Pierre Creton
2021 | France | 21′
Three circular panoramas follow on from each other in three interiors. With each rotation of the camera, a limitless intimate world is born, dies and resurrects. Houses of love are also monuments to the dead, past or future. (Cyril Neyrat)
Atlas by Antoine D'Agata
2013 | France | 78′
A man with no ties, the survivor of a long odyssey, gathers scattered pieces of an identity that is as fragmented as the territories he travels through. He exhausts himself in the strangeness of signs, places, unfathomable languages. There is no god or indulgence in his nights, but the acceptance that all that exists is flesh.
Nainsuckh by Amit Dutta
2010 | India, Switzerland | 72′
The 18th-century miniaturist painter Nainsukh and his prince's court come to life in the abandoned palaces and landscapes of today's Kangra Valley. The actor playing Nainsukh is himself a miniaturist and continues the gestures of the past
La Mécanique des fluides by Gala Hernandez Lopez
2022 | France | 38′
In 2018, an incel (involuntary celibate) posted a suicide note on Reddit titled "America is responsible for my death ". The film is a virtual drifting around the Internet in search of his digital traces.
Lunch Break by Sharon Lockhart
2008 | United States | 84′
42 workers take their lunch break in a corridor that stretches the entire length of a shipyard. What was a brief interval in their work day expands into a sustained gaze.
El Futuro by Luis López Carrasco
2013 | Spain | 67′
A group of youngsters are drinking and dancing in an apartment. The socialist victory in the 1982 elections is announced and the attempted coup d'état of 1981 seems far away. But a black hole that will devour everything in its path is approaching at great speed.
A Short Film About the Indio Nacional by Raya Martin
2005 | Philippines | 96′
A choir boy torn between his commitments to the Spanish and to his compatriots, a teenager under growing pressure from the revolution, an actor seeking to free himself from his troubled soul: through these characters, in the 1980s, Philippines' bloody emancipation from Spanish control.
A Spell To Ward Off the Darkness by Ben Rivers and Ben Russell
2013 | France – Estonia | 98′
A character at three different moments of his life: a member of a commune on a small Estonian island, a hermit in the solitude of northern Finland, and a singer in a neo-pagan black metal band in Norway.
Ride Like Lightning, Crash Like Thunder by Fern Silva
2017 | United States | 8′
As a storm approaches, the creeping hand of history disrupts nature and civility in the Hudson River regions of Upstate New York.
Rock Bottom Riser by Fern Silva
2021 | United States | 70′
As lava continues to flow from the earth's core on the island of Hawaii – posing an imminent danger – a crisis mounts. Astronomers plan to build the world's largest telescope on Hawaii's most sacred and revered mountain, Mauna Kea
Hardly working by Total Refusal
2022 | Austria | 20′
An ethnographic exploration of the work and life realities of non-player characters, the digital extras in video games. Their labour loops, activity patterns as well as bugs and malfunctions paint a vivid analogy for work under capitalism.
Mekong Hotel by Apichatpong Weerasethakul
2012 | United Kingdom – Thailand | 57′
In a hotel overlooking the Mekong River, Apichatpong Weerasethakul and his team are rehearsing for a film about a meeting on a hotel terrace on the banks of the Mekong between Phon, and young girl, and Tong, a young man. The young girl discovers the existence of cannibalistic ghosts known as "pobs".