MY CRASY LIFE
1991
United Kingdom
98 min
Languages: English, Samoan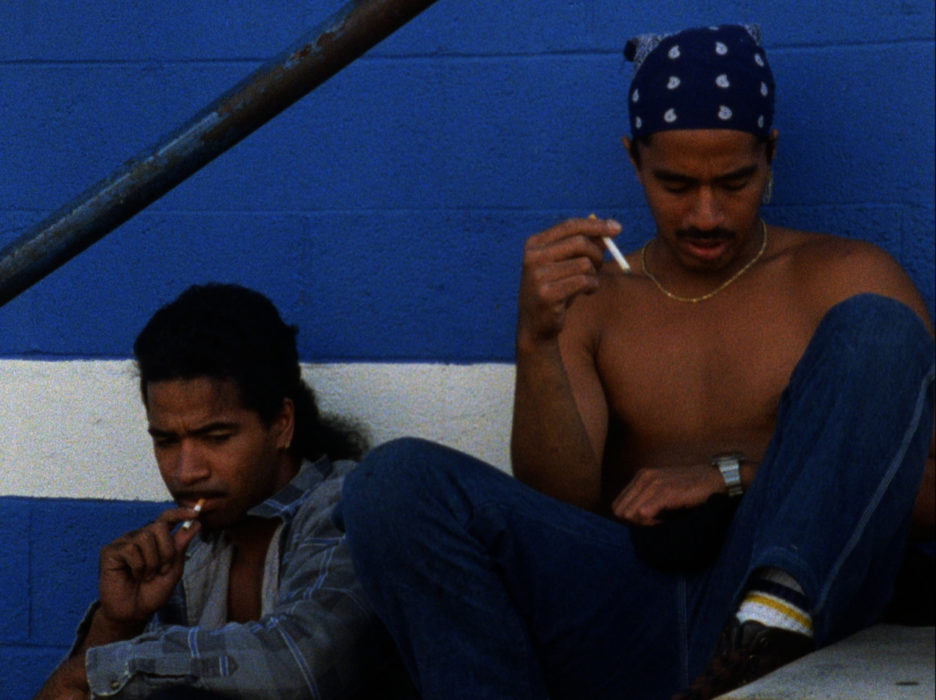 The daily life of a Samoan street gang in Long Beach, California, with its own rules based on violence, solidarity and rituals to strengthen cohesion.
---
"The oil-and-water formula of Jean-Pierre Gorin's new film, My Crasy Life, is only part of what makes it so provocative. Flippantly described by Gorin as 'Robert Flaherty meets Sam Fuller,' […] the film's significance runs far deeper than the debate over whether it's fair and proper to script scenes in a documentary. My Crasy Life, which was financed by the BBC in association with FR3, seeks to empty itself of moral judgments about its subject: gang life. Since it does not present gangs as a social 'problem,' the film consequently poses no 'solutions' […].
In discussing My Crasy Life, Gorin repeatedly mentions not a documentary but Luis Buñuel's fiction film Los Olvidados as a touchstone. That film is about Mexico City street kids and was based on stories Buñuel drew from reform school records. Los Olvidados is a film that Buñuel argued had a social argument but made no moral judgments. Likewise My Crasy Life departs from moral grandstanding. There are no good guys or bad guys. In this sense, the film is closer to how gangsters think about their own lives. 'They think tragedy,' says Gorin, 'we think melodrama, with morality. They don't judge their lives or indict the system; they just live them. I want a fiction disengaged from melodrama.'
Daniel Marks, one of the film's producers and an anthropologist, adds that people never realize how normal gangster life is for gangsters. And yet despite the film's absence of melodramatic framing, the film is not dispassionate. Says Gorin, 'When you're on the inside, you feel the warmth, the community. You don't feel the violence.' But there is violence aplenty, as the film indicates through its inclusion of police homicide photos showing some bloody hits. 'The film avoids violence,' Gorin noted at Sundance, 'yet it gets to 99 percent of what their lives are about – which is young men talking like old guys who see the end of their lives coming up. 'How old was so-and-so when he died?' 'Fourteen'; That's the tragedy.
Barbara Osborn ("Spanky and Our Gang: Jean- Pierre Gorin's My Crasy Life," The Independent, November 1992)
Jean-Pierre Gorin, born in 1943 in Paris, is a French director. He studied at the Sorbonne and attended the seminars of Louis Althusser (including the one devoted to the definition of the theory of the state ideological apparatus), Jacques Lacan and Michel Foucault.
From 1965 to 1968, Jean-Pierre Gorin worked for the newspaper Le Monde as an editor, and took part in the creation of its weekly literary supplement, Le Monde des livres. During this period, he wrote dozens of articles that fueled the political and aesthetic debates that would eventually lead to the May 1968 uprising. He then founded the Dziga Vertov Group with Jean-Luc Godard, a film collective that produced and directed Maoist-oriented militant films until 1972.
Jean-Pierre Gorin left France in 1975 to teach at the University of California in San Diego.
The Entrevues film festival in Belfort devoted a retrospective to him in 2004.
Production :
Allan Marks Production (Daniel Marks), BBC Documentaries
Photography :
Babette Mangolte
Sound :
Ken King
Editing :
Brad Thumin
Music :
Joji Yusa
Print source :
Janus Films - belovarac@janusfilms.com