LUNCH BREAK
2008
United States
84 min
No dialogue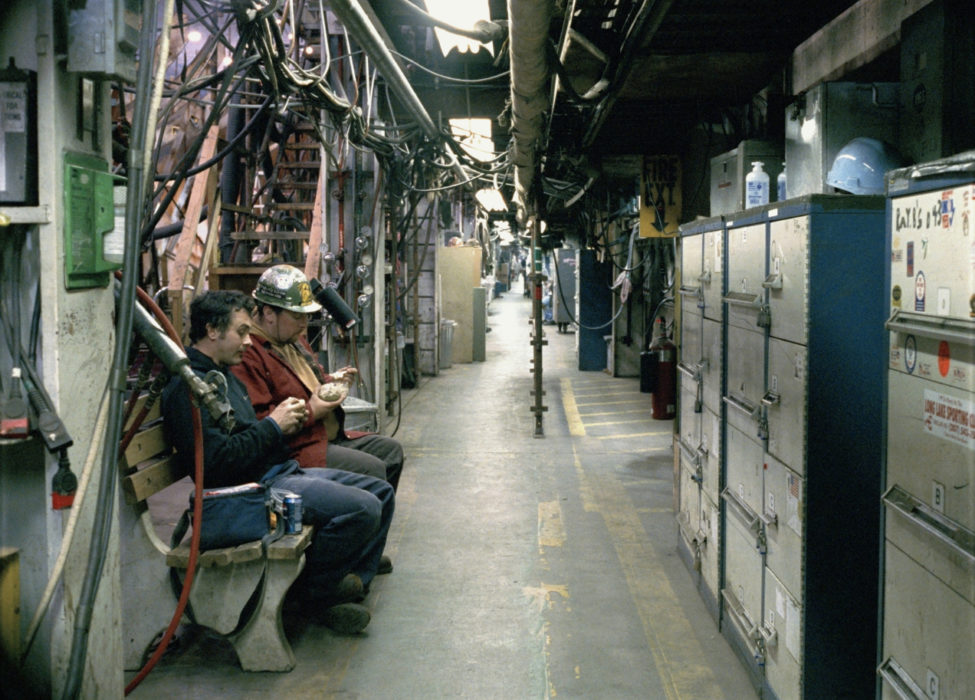 42 workers take their lunch break in a corridor that stretches the entire length of a shipyard. What was a brief interval in their work day expands into a sustained gaze.
---
Sharon Lockhart's Lunchbreak (Assembly Hall, Bath Iron Works, November 5, 2007, Bath, Maine) 2008 is a film made at the Bath Iron Works, a ship-building factory in Bath, Maine in the northeastern United States, near to where the artist grew up. Lockhart was interested in the lunch break as a time when workers can socialise, knowing that the rise in shift labour has meant that fewer workers are able to share this time together. She made the film during lunch break in a long corridor flanking the area of the factory where the ships are built. Her film is a single shot, made from a camera travelling on a dolly down this corridor. The camera took ten minutes to travel along the track, and in postproduction Lockhart slowed the footage down by eight times so the film lasts just over eighty minutes. During the course of the film, the camera records different workers eating lunch in the corridor, walking to and from their lockers to retrieve their lunch boxes, and moving towards and away from the camera. Their bodies appear monumental because of the slowness of the film, and also on the verge of breaking up: this was Lockhart's first digital film, and the peripheries of the bodies often pixelate as they move. Together the movement of the camera and the slowing of the original footage create a feeling of confined space and an oppressive sense of slowness. The resulting mood of the film impacts on the way the viewer understands the experience of the workers represented.
(Tate.org.uk)
Sharon Lockhart (Born 1964) is an American artist living and working in Los Angeles. In a diverse practice that includes installation, photography, film, painting and sculpture, Lockhart creates compelling and complex interactions between the various media and forms she employs, histories she encounters, and the communities and people she collaborates with.
Production :
Clay Russel Lerner, Galerie Neugerriemschneider, Blum & Poe, Gladstone Gallery
Photography :
Richard Rutkowski
Sound :
Becky Allen, James Benning
Editing :
James Benning
Music :
Becky Allen
Print source :
Galerie Neugerriemschneider - dylan@neugerriemschneider.com