LA CABANE DE DIEU
2020
France
16 min
No dialogue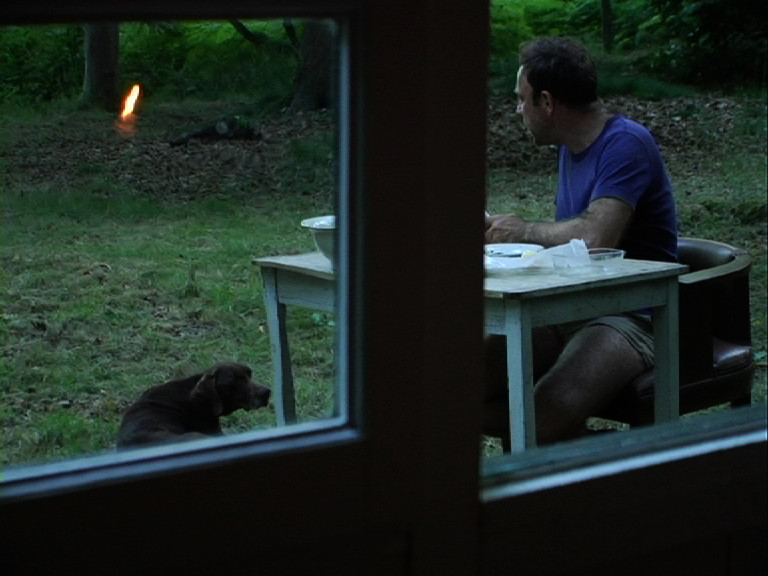 From his father, Pierre inherited a wood that he looks after and, in the middle of the wood, a cabin, his father's old hunting lodge where Pierre now enjoys spending time alone with his dog. There, he made a film which he has just completed, twelve years after an unsuccessful attempt. One of the first shots shows the cabin from a steep high-angle view as if seen from the top of one of the trees bordering the glade. More than Thoreau's cabin, this shot brings to mind Edison's Black Maria studio. Like the house in Vattetot, the wood cabin is a film studio. And a haunted house.
(Cyril Neyrat, Le Jardin des abeilles, Sur quelques films de Pierre Creton, Images Documentaires, Octobre 2020)
Pierre Creton is a filmmaker and a farmer. Born in 1966, he lives and works in Vattetot-sur-mer (Seine Maritime). He studied at the Villa Arson (Nice) and at the School of Fine Arts in Le Havre. He decided to stay in Normandy and to become a farmer. Pierre Creton makes all his films in a specific territory: the Pays de Caux, in Haute-Normandie. The various agricultural activities that he has carried out there have regularly served as a framework or pretext for his films. All were shown in 2021 at Cinéma du réel during a retrospective.
Production :
Pierre Creton
Photography :
Pierre Creton
Sound :
Pierre Creton
Editing :
Pierre Creton
Print source :
Pierre Creton