LA BONGA
2023
Colombia, United States
77 min
Language: Spanish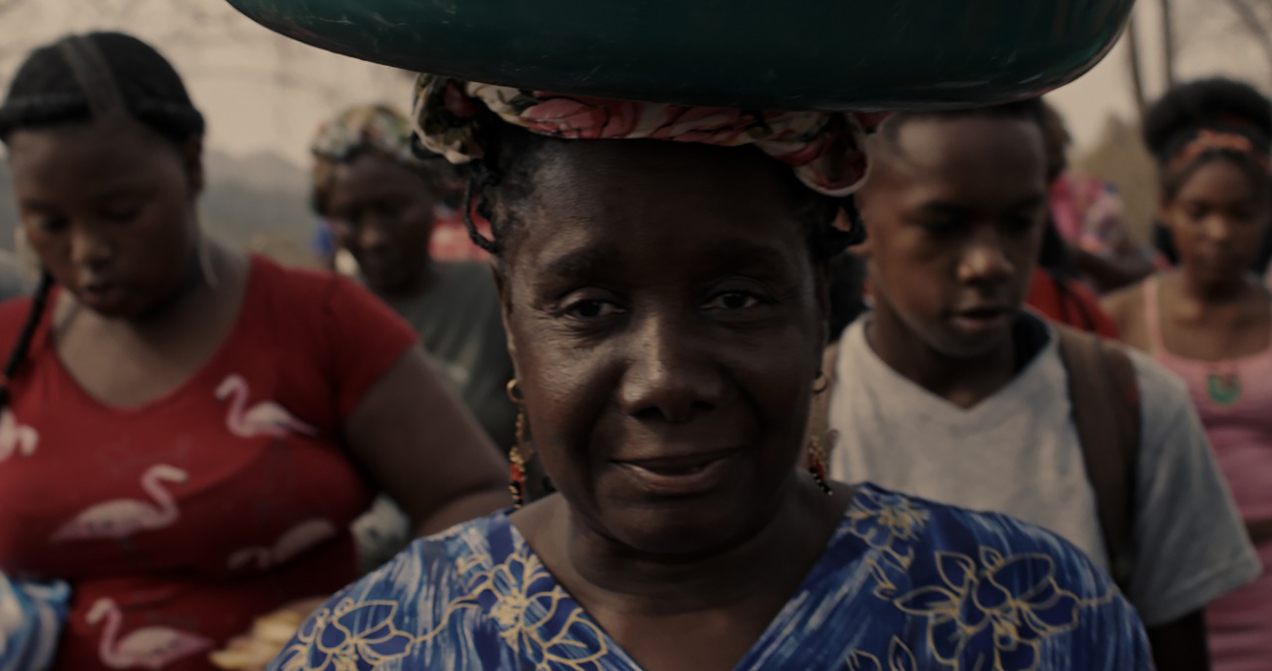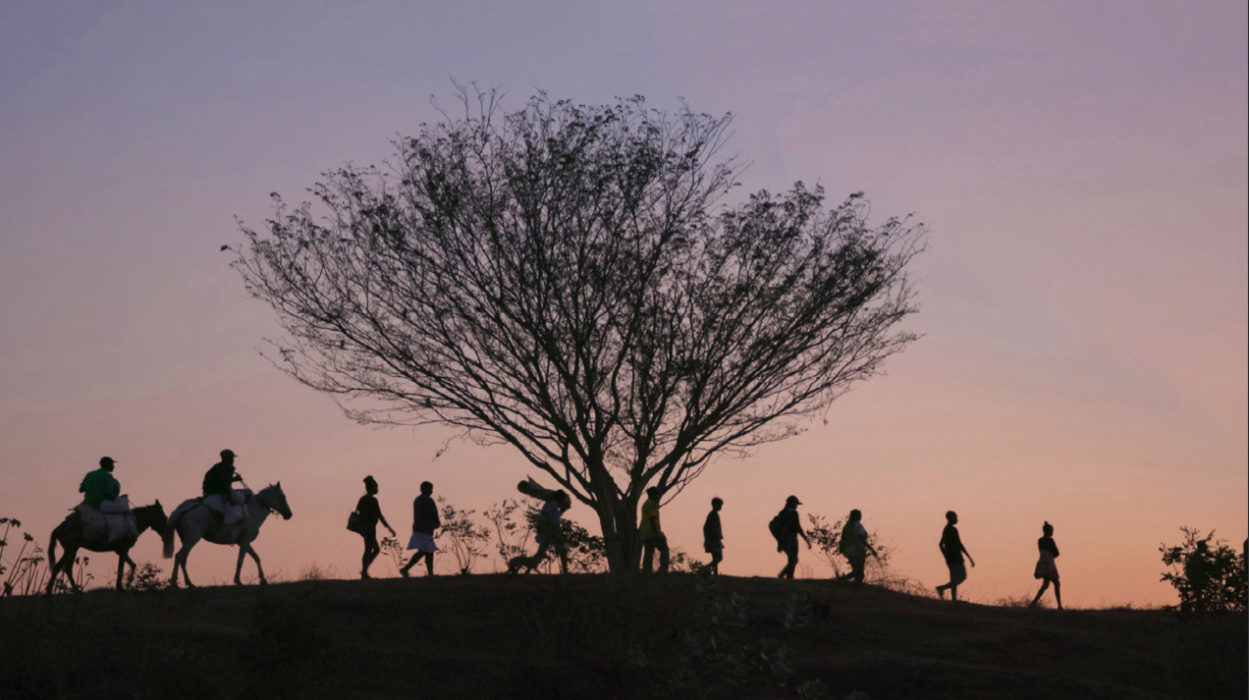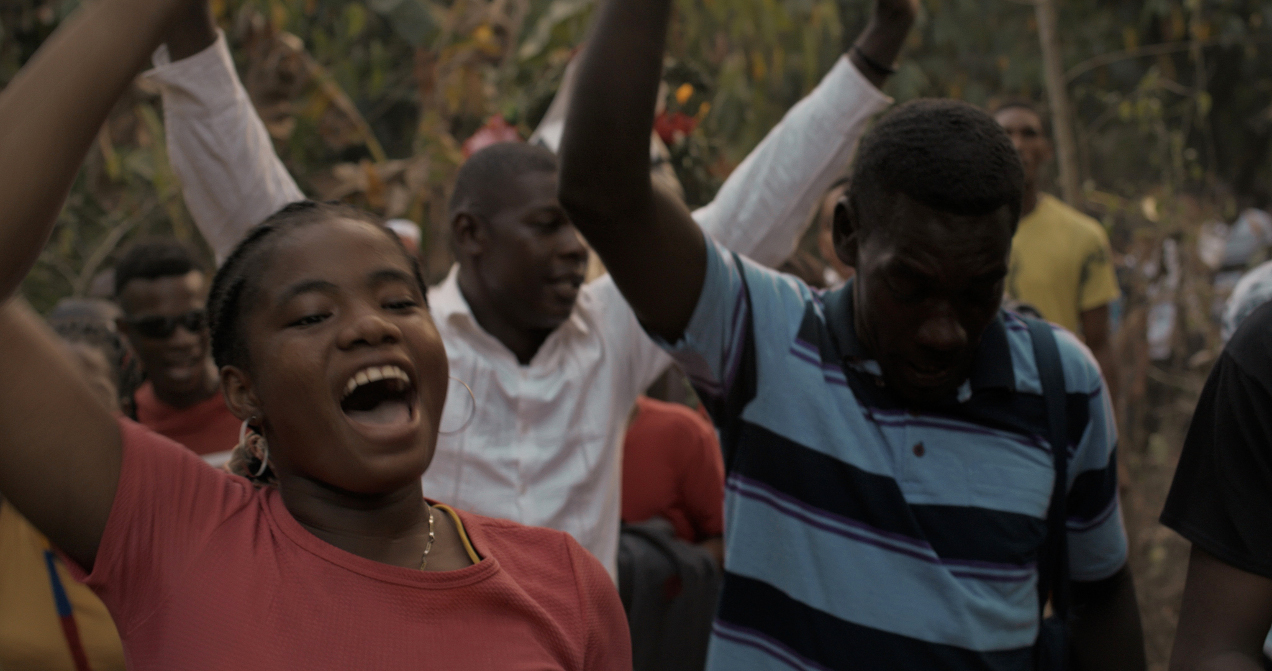 Two decades after a death threat from right-wing paramilitaries caused the maroon community of La Bonga to flee, the townspeople embark on a symbolic journey through the jungles of the Colombian Caribbean to resurrect a home that exists only in their memories.
---
La Bonga is the name of a tree and the name of a village in Colombia: one founded by the descendants of Black slaves running away from white violence – a safe place from which they were chased. Canela Reyes and Sebastián Pinzon's film is the story of a return journey. The former inhabitants of La Bonga embark on a path seldom taken in contemporary accounts of exile: they are going home. The film captures their procession, a vast performative ritual. Walking, returning, and commemorating speak of fighting and resisting. They speak of reclaiming land and memory. With unmistakable virtuosity, the camera slips in between the marchers, recording their accounts, their memories and their desires, as well as the exertion of the walk. The duration of that walk, the narrow pathways and the abundant presence of overgrown plants – making their way back faster than any humans – paint a picture of the shelter La Bonga once was. Parallel to the ceremony, a woman and her granddaughter are making the trip back alone to settle in La Bonga. It is a slower and more personal journey, but going home is a spiritual path that lies within. The film weaves together past emotions and future desires in this instinctive double journey accomplished in the present. The two journeys take place at different moments in time but the film's editing weaves them together, letting us experience them together. On the ruins of La Bonga, a celebration breaks out, to stave off the trauma of those who have been displaced and torn away from their ways of life, to resist against the damages of uprooting.
Clémence Arrivé
Sebastián Pinzón-Silva is Colombian nonfiction filmmaker and photographer. His work has screened at festivals including Locarno, True/False, FICCI, SFFILM, Camden, RIDM, and New Directors/New Films. He has been recognized with awards from the Directors Guild of America, FICValdivia, Cinélatino, and Rencontres de Toulouse, among others. Sebastián is a Sundance Documentary Fellow and was named one of Filmmaker Magazine's 25 New Faces of Independent Film in 2019.
Canela Reyes has worked as a director, screenwriter, co-producer, and researcher on films and community development projects throughout Colombia. She is the co-writer, researcher, and co-producer on the feature film Lapü (Sundance, 2019) which won six awards during its festival run. She holds a degree from the Universidad de los Andes in Bogotá.
Production :
La Bonga LLC (Gabriella Garcia-Pardo), Jarana Cine (Sebastián Pinzón Silva), Colectivo Kuchá Suto (Rodolfo Palomino)
Photography :
Timothy Fryett, Sebastián Pinzón Silva
Sound :
Tariq Burney, Mercedes Gaviria
Editing :
Laura Huertas Millán, Sebastián Pinzón Silva, Canela Reyes
Print source :
La Bonga LLC - gabriellagarciapardo@gmail.com