GRANDEUR NATURE
2023
France
37 min
Language: French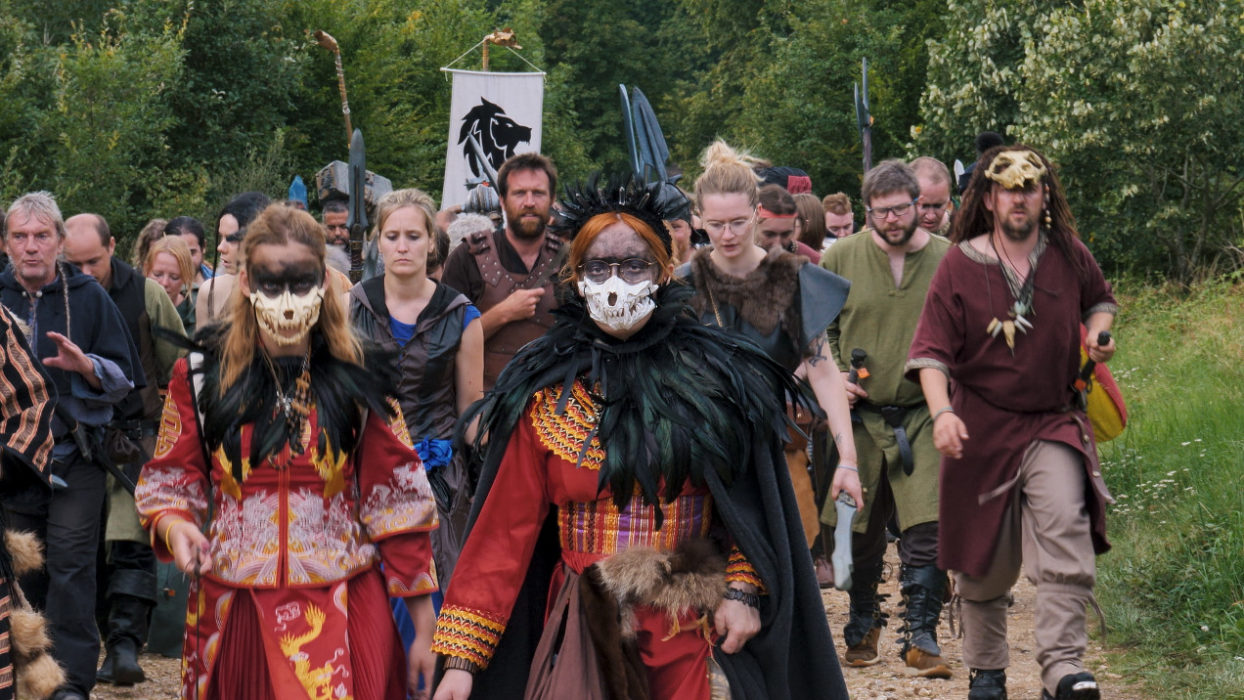 In everyday life, Clémence is a philosophy researcher. Yet, during the fantastic medieval role play based on the Hyborian Legends, she embodies the chronicler Nuria Delorme. She travels through the game's vast lands to meet hundreds of other characters who inhabit this imaginary world.
---
Except for the first, the shots in Grandeur nature are anything but staged: immersed in the universe of the gigantic live action role-playing game (or mass-LARP) Hyborian Legends, Arnaud Dezoteux's camera endeavours to capture this annual event involving hundreds of players. But the spectacle is always on the move and little suited to passive observers. To be able to render even one fragment, it was necessary to find a place within this closed universe. Nuria Delorme calls herself a "chronicler", a made-to-measure role created for Clémence Agnez, co-author of the film, which allows her to interrupt an ongoing action to interview the players and shed light on their mysterious behaviour. The frequent desynchronisation between image and sound splits our perception to convey the profusion of "peoples" (Cimmerians, Aquilonians…) and operations. Even the language is not the one we think we are hearing: two players who, to profane ears, seem to be speaking French must, in the universe of Hyborian Legends, communicate through an interpreter. In the end, the film does not so much help us to understand the game itself, but rather glorifies the participants' performances, their impressive conviction – a wounded warrior nonetheless gives the hint of a smile when the camera approaches him. Rather than seeking to explain the players' motivations, Arnaud Dezoteux and his team join in the dance and, with a hint of admiration, generously depict the powers of imagination.
Olivia Cooper-Hadjian
Arnaud Dezoteux, a 2011 graduate of the Beaux-Arts de Paris, makes films and installations focused on reality TV, seduction coaching or body-building and often use the green screen studio as the place for an atypical confrontation with the actors, bringing together backstage, improvisation and spectacular effect.
After a solo exhibition at the Edouard Manet gallery in Gennevilliers (2016), he presented his film Miroir de Haute-Valnia at the Centre Pompidou (2017) and a project around Billy the Kid at the Pernod-Ricard Foundation (2021).
Production :
Glassbox
Photography :
Arnaud Dezoteux
Sound :
Celsian Langlois
Editing :
Arnaud Dezoteux
Print source :
Glassbox - benjamin.glassbox@gmail.com