In partnership with Ouaga Film Lab
DOXANDEM, THE DREAM CHASERS
DOXANDEM, LES CHASSEURS DE RÊVES
2022
Senegal, South Africa
48 min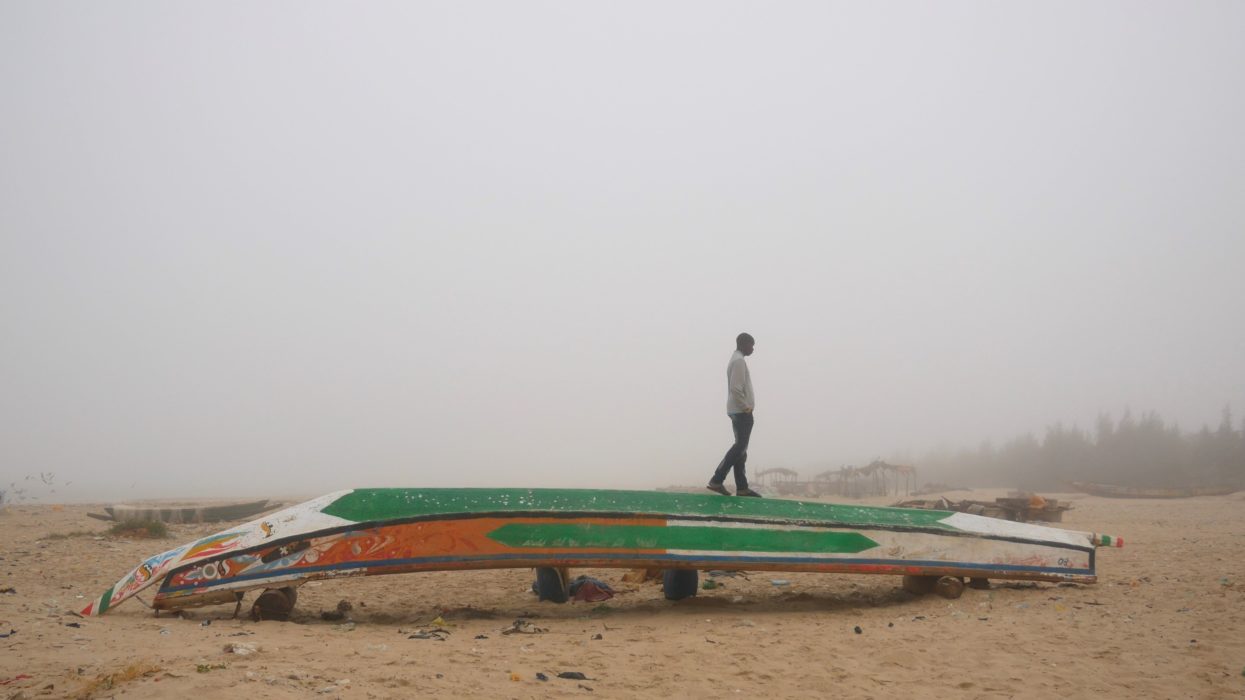 Upon returning to Gandiol, his native Senegalese village, after 8 years of being a migrant in Spain, Mamadou seeks to be a positive force for his community. Assisted by his wife Laura, who came from Spain to Senegal, and under the gentle gaze of Yaaye Khadi, Mamadou's mother, they start sharing and building with their community the "active utopia" expressed in the book Mamadou wrote while on his journey.
The film accompanies Mamadou in his quest, to try to see his dream and his choices and their impact on the life and personality of this eternal traveler…
Saliou Sarr
Senegalese artist Saliou Sarr is a bee full of action that draws from multiple universes, from theater to cinema through music. Author, composer and director, his work contributes to the universality of language, culture and representations. He cherishes traditions, while keeping an eye on the future. With him, we transcend unimaginable borders, grasping the full meaning of the word "orality". We also accompany him in a rich contemplation, under the auspices of a quasi-spiritual credo: Africa is the present.
2016: Vie Saaraba Illegal – Doc 90 mn – Director – Baraka Prod / Filmkraft
2011: Coup de filet – Doc 26 mn – Director – Baraka Prod / Filmkraft
2008: Masqué démasqué – Director – Mission culturelle Bandiagara / Deutch Weller
Yanis Gaye
Yanis Gaye is a French-Senegalese producer and cultural programmer. He is one of the co-founders and editorial and artistic director of Gorée Island Cinema, ensuring the development of many projects related to cinema (creative workshops, film production, cultural events…). He is also the director of the Goree Cinema Festival, created in 2015. In addition, in 2019, he joined the production company Boul Fallé Images as an associate producer.
2021: Ici c'est Mpaka | Collectif d'Artistes, court-métrage documentaire, 35min | Gorée Island Cinéma, Institut Français de Pointe Noire, Congo 2020: Mbas Mi | Joseph Gaï Ramaka, Court-métrage, 7 min
Stage :
post-production
Completion :
May 2022
Screening version length :
48 min
Expected final length :
70 min
Production :
Gorée Island Cinema (Yanis Gaye)
Production contact :
info@goreecinema.com
Funds :
STEPS, Fonds Jeune Création Francophone, Coopération Basque