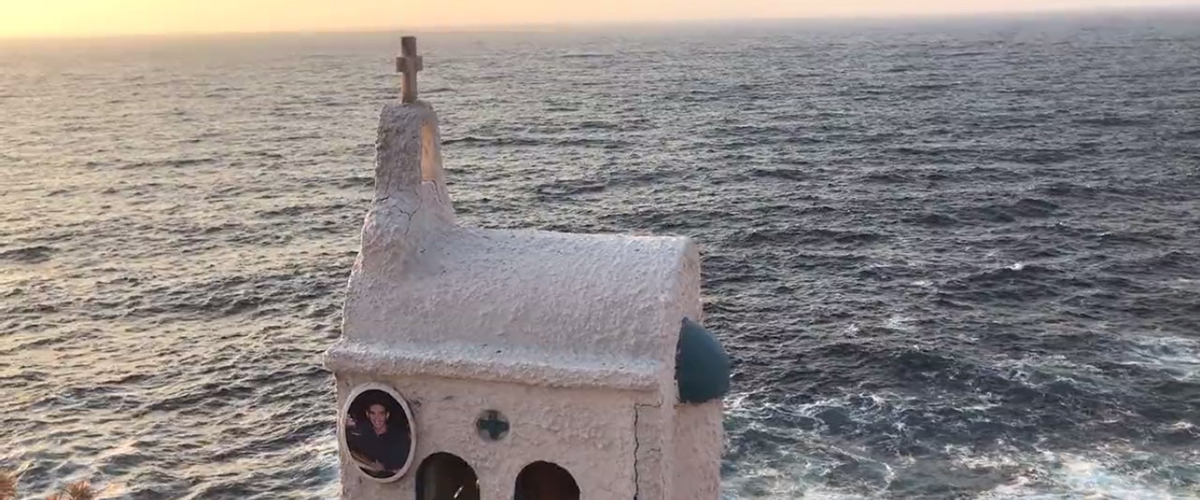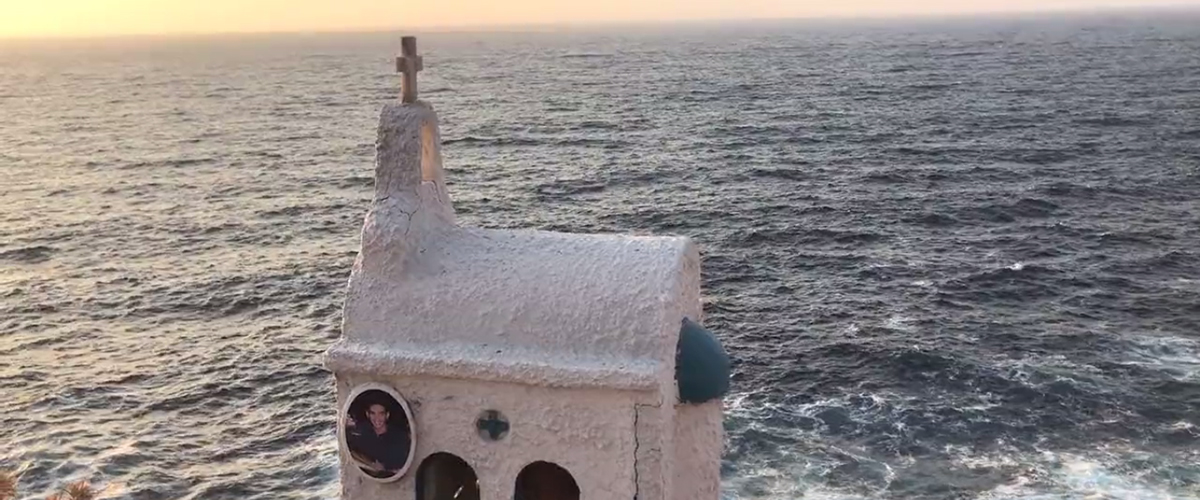 Léthé
Christophe Pellet
_

On Amorgos Island, in summer. Small monuments have been erected on the spot of a fatal accident: a photo, a few words, flowers, religious and non-religious objects. The deceased are the "stayed-there": they died in transit, on a road, stuck there forever.
_

River Léthé, the river of hell, allows the dead who cross it to forget the memories of their life. As evening falls on a small Greek island, is the boat that enters the bay at the beginning of the film there to disembark the living or take away the dead? Using the images of paths that the filmmaker treads and films, a story is woven between those who departed and those who stayed. From these summer contemplations, intuitive and wild shots, tempestuous shots, are created to compose a deadly cruise. Dotted along this island's pathways are small commemorative steles in tribute to the departed. Fully integrated into the landscape, these steles stand as the last habitations on the island, which in their presence comes to reveal itself. The camera moves close to the faces engraved on the steles, faces of young men who passed away on the roadsides they now haunt, greeting those who pass back and forth. Their young faces constantly return and for the living who cross through Christophe Pellet's film it is impossible to forget the dead. Where does the path to oblivion lie? At twilight, the cats emerge, psychopomp-creatures that lead the souls of the dead, connecting the here and the hereafter, guiding the departing. At night, their eyes are the last glows to be seen. They join with the thunder, opening the breach necessary for the final crossing.
Clémence Arrivé
_
PRINT SOURCE: Sedna Films, sednafilms@free.fr
Christophe Pellet
Christophe Pellet graduated from La FEMIS in 1991. His films include: Aujourd'hui, rien (72 mn. 2017), Burning Bridges, (34 mn. 2016), Exoplanète, (20 mn. 2013), Seul le feu, (45 mn. 2012), Soixante-trois regards, (50 mn. 2011), Plus dure sera la chute, (10 mn. 2010). Le garçon avec les cheveux dans les yeux, (20 mn. 2008).His texts have been published by Arche Editeur, and staged mainly by Stanislas Nordey, Jacques Lassalle and Madeleine Louarn.