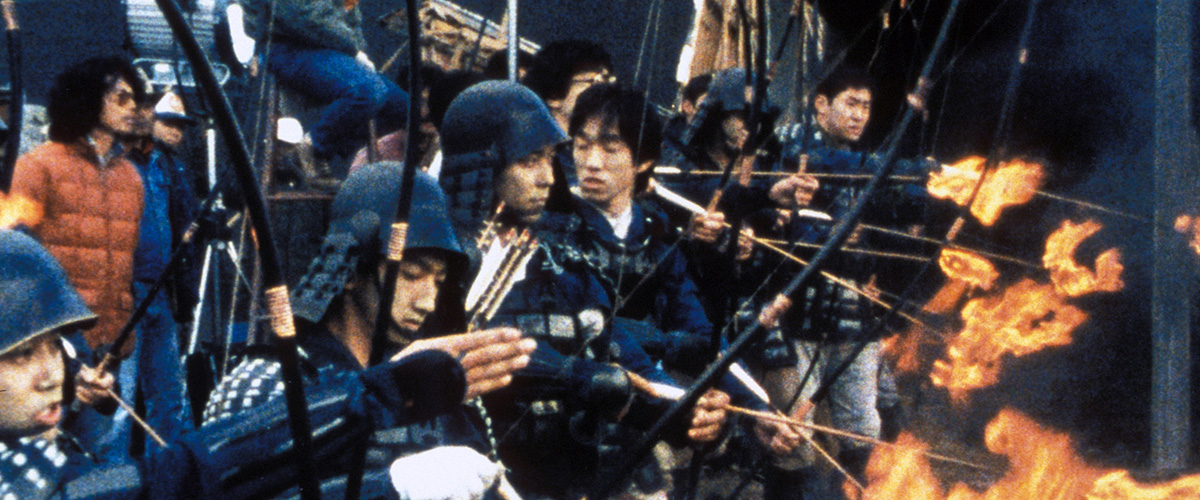 A.K.
Chris Marker
1985
France
Japan
70 min
Colour
35 mm
Chris Marker paints a portrait of Akira Kurosawa du­ring the shoot of Ran. He divides his reportage into a series of small chapters that give us better insight into the filmmaker's work and favourite themes. Unobtrusive behind his camera, he is overwhelmed, as he says, by the obvious happiness of "appropriating for himself a beauty that was not his own".
Serge Silberman, the French producer of Akira Kurosawa's Ran (1985), asked Chris Marker to make a behind-the-scenes portrait of the great Japanese director on the set of the film at the foot of Mount Fuji. Mar­ker was one of a generation of documentary filmmakers who exchanged the «objective» documentary for a more subjective form, as is demonstrated by the voice-over he wrote. Making-of documentaries were unusual in those days, and Marker (whose love of cinema had pre­viously led to loving homages to Andrei Tarkovsky, Sergei Eisenstein and Alfred Hitchcock) gave the genre his own twist by making A.K. a poetic, self-reflexive exploration of Kurosawa's oeuvre. The result is a work of art on the making of a work of art – an ode to Kurosawa in which it is principally the details that attract Marker's attention. In Marker's hands, the extras trying on their samurai costumes, the endless waiting and even the weather be­come ruminations on the nature of filmmaking. A.K. is divided into the chapters «Battle», «Patience», «Faith­fulness», «Speed», «Horses», «Rain», «Lacquer & Gold», «Fire», «Fog» and «Chaos», all themes that Marker saw throughout Kurosawa's work.
–International Documentary Filmfestival Amsterdam
Chris Marker (1921, Neuilly – 2012, Paris) is a director, writer, illustrator, translator, photographer, editor, philosopher, essayist, critic, poet and producer. He was among the first to experiment with direct cinema in Le Joli Mai. He investigated the possibilities of intervention cinema around French social conflicts all the while collecting images around the globe. He found his most profound affinities in Japan (Le Mystère Koumiko, Sans Soleil). He assumed documentary filmmaking's most difficult functions, and finds few rivals in them. Solitary, ungraspable, he appears in William Klein's words, as an "electronic hermit".
PRODUCTION : Greenwich Film Productions (France), Herald Ace (Japan)