THE NEWEST OLDS
2022
Argentina, Canada
15 min
Language: English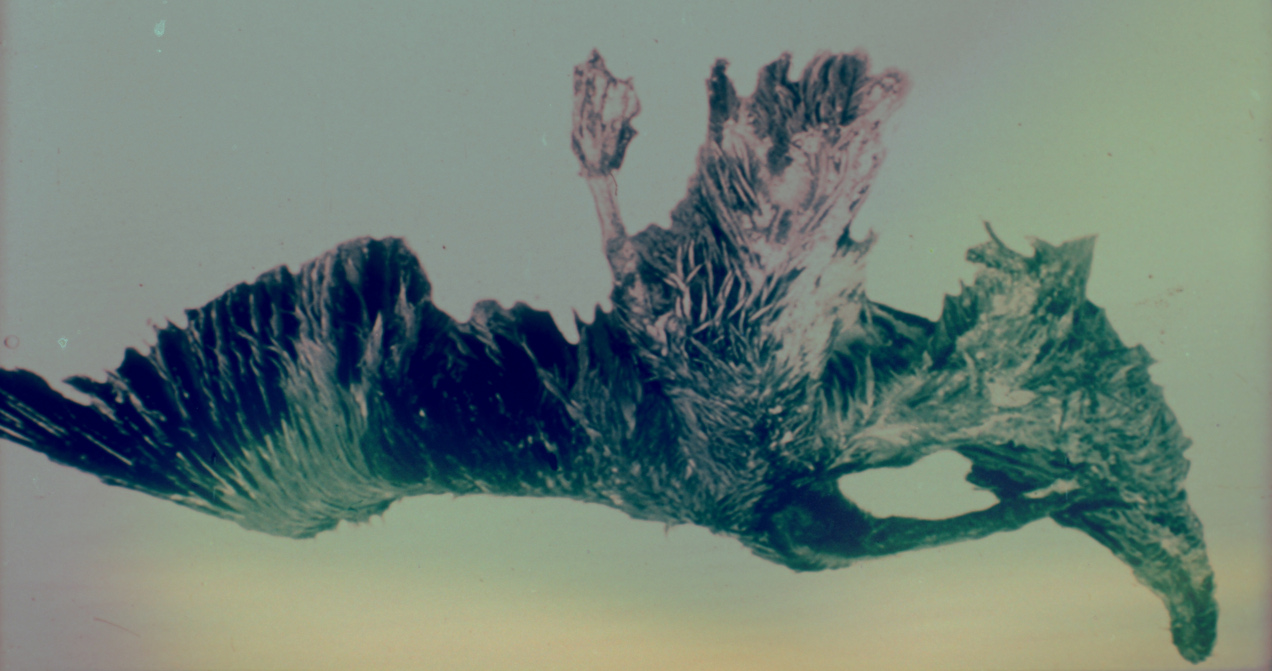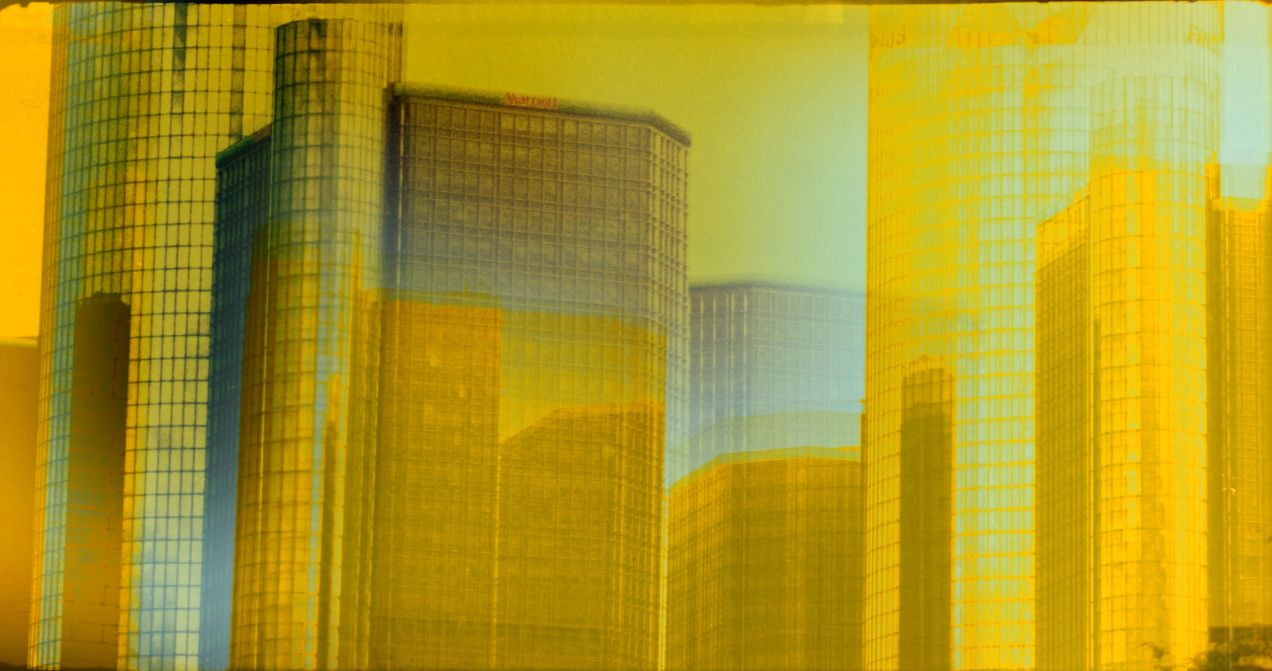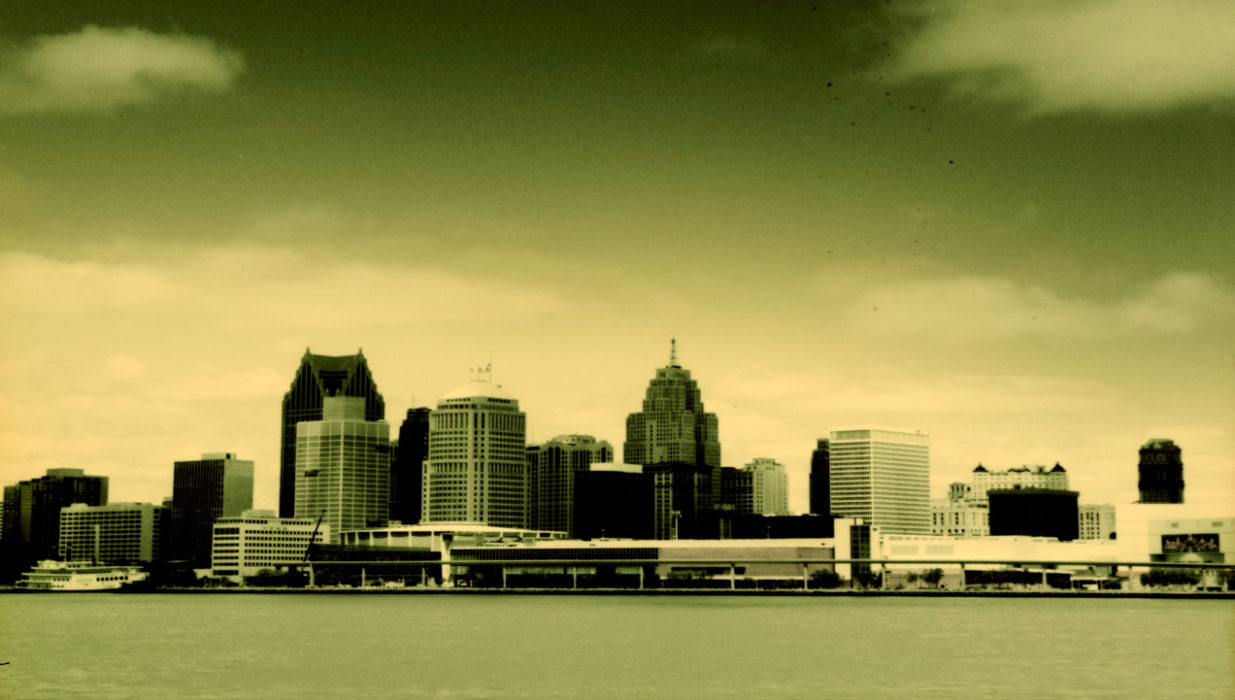 The Newest Olds transforms Detroit's iconic city-scapes, dislodging buildings from their foundations and collapsing the physical, political and sensory boundaries between Canada and the United States through alchemical, in-camera, and optical printing techniques.
---
The Detroit skyline pulsates, night and day, in rain and shine, in line with the vibrating and superimposed views – Pablo Mazzolo filmed with a Bolex Super 16 and a Zeiss Ikon Kinamo 35 mm camera, both operated with hand-cranks, which explains the vibratory nature of the images. This then gives way to another skyline of much more modest proportions: Windsor, in Canada, a reverse shot of the first image, as it is located just opposite the American city on the other side of the river. The Newest Olds is based on the attraction of a geographical area that the Argentine director had already made into a film (Fish Point, shot on neighbouring Pelee Island, 2015). In this particular place, the meandering border takes the United States north of Canada and the former industrial capital is surrounded by a peaceful lacustrine landscape which, in the film, follows the views of both cities. The grass here moves with the same chromatic spasms, while the sound track, separate from the image, conjures up other places and other times. Humans are invisible, but make their appearance in the sound. In many ways, industry has encroached on the landscape that welcomes it – the persistent humming that only ceased when a factory closed down, the pollution with its deadly impact on birds. The past of "Motor City" has given way to a de-industrialised present where violence has taken on new forms. On the façades of historical buildings, rejuvenated by sudden double exposures, the sounds of today's battles reinstate the men and women of the region, those who shaped it and also suffered from it.
Olivia Cooper-Hadjian
Pablo Mazzolo (Argentina) is a filmmaker, educator and mountaineer born in Buenos Aires in 1976. He works exclusively in analogue film formats exploring the optical and chemical properties of the medium, with a particular focus on human and natural landscapes. His work has tackled themes such as indigenous sovereignty, the spectre of military dictatorship in Argentina, extinction and environmental catastrophe. He received his MFA from the University of Buenos Aires (2001). His films, including El Quilpo sueña cataratas (2012), Fotooxidación (2013), and Cineza Verde (2019) have been widely exhibited at festivals, museums and galleries internationally, including Arsenal Institute for Film and Video Art, Museo Nacional Centro de Arte Reina Sofía, Berkeley Art Museum and Pacific Film Archive, The Block Museum of Art, Govett-Brewster Art Gallery, Anthology Film Archives, Brooklyn Museum, The Buenos Aires Museum of Modern Art, International Film Festival Rotterdam, New York Film Festival, Edinburgh International Film Festival, Punto de Vista Festival, Frontera Sur–International Non-Fiction Festival, Museo Rufino Tamayo, FAMU International, The Latin American Museum of Art Buenos Aires.
Production :
Pablo Mazzolo, House of Toast Film & Video Colletive (Oona Mosna)
Photography :
Pablo Mazzolo
Sound :
Pablo Mazzolo
Editing :
Pablo Mazzolo
Print source :
House of Toast Film & Video Colletive - mediacity@houseoftoast.ca