OB'S STÜRMT ODER SCHNEIT
COME RAIN OR SHINE [QU'IL NEIGE OU QU'IL VENTE] 
1977
Germany
81 min
German
Fri 31
March
15h00
Centre Pompidou - Petite salle
Entrée libre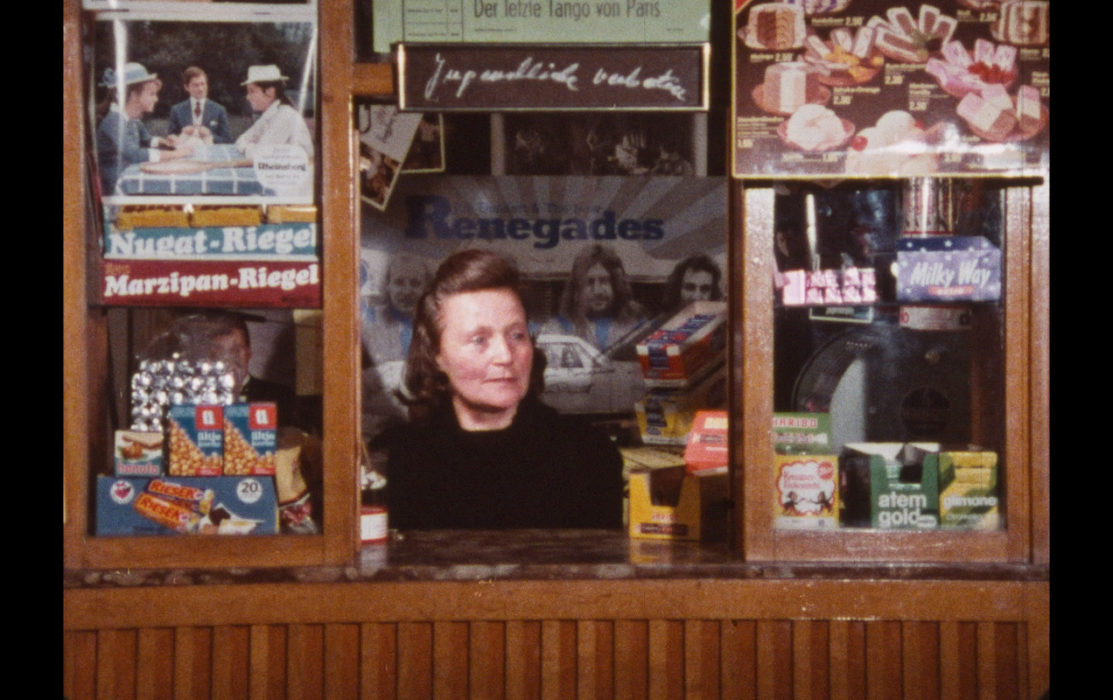 Presented by Markus Ruff, head of the Archives Projects at Arsenal – Institute for Film and Video Art.
Doris Dörrie and Wolfgang Berndt 's feature film debut is a gentle portrait of cinema lover Maria Stadler. Despite plummeting audience numbers and high debts, she devoted her entire life to running her film theatre in a small Bavarian town. From selling the tickets and operating the projector, chopping wood for heating, to transporting copies with her old bicycle and organising other events such as rock concerts or Punch and Judy shows to supplement the income, she did it all by herself. – The cinema still exists today and is called Maria's Cinema in her honor.
The Restorer – Arsenal – Institute for Film and Video Art
Communicating film culture in lively fashion is the mission and passion of Arsenal – Institute for Film and Video Art. As a site for research and education that works both nationally and internationally, this Berlin institution creates a network of communication as well as a space for (film) cultural dialogue.
A cinema (Arsenal 1 & 2 and, since March 2020, our digital platform arsenal 3), a festival (the Berlinale Forum and Forum Expanded), a distributor (arsenal distribution), and the archive form Arsenal's areas of operation. The continual interaction between and intertwining of these areas allows the institution to work with films in a lasting manner and from a range of different perspectives. This structure is at once a constitutive element of Arsenal and unique worldwide.
Doris Dörrie is one of Germany's most popular directors. She studied directing at the University of Television and Film in Munich (HFF), where she made her first film Ob's stürmt oder schneit in the winter of 1976. To date, she has made more than 30 feature films and documentaries for film and television, as well as some 30 books and operas. Her films include Men… (1985), Me And Him (1988), Nobody loves me (1994), Am I Beautiful ? (1998), Naked (2002), Enlightenment guaranteed (1999) and Cherry blossoms (2008). These films were not only successful at the box office, but also received numerous awards. Her latest film, The pool (2022), premiered at the Munich Film Festival and will be released in Germany in September 2022. Since 1997 she has also been teaching creative writing at the HFF in Munich. Dörrie lives and works in Munich.
Wolfgang Berndt
Wolfgang Berndt studied at the University of Television and Film Munich (HFF) where he co-directed Ob's stürmt oder schneit with Doris Dörrie. In 1980 he shot the TV feature Autokino.
Fri 31
March
15h00
Centre Pompidou - Petite salle
Entrée libre
Production :
Doris Dörrie-Filmproduktion
Restoration :
Arsenal Institute for Film and Video Art
Progress stage :
Research for elements
Availability date :
January 2024